A few years ago, toilets flushed waste at a whooping rate of 3.0+ gallons per flush. That's a lot of clean water going down the drain. And that brings along a huge water bill which, when added to heating bills and other end month expenses, the total figure can leave a disturbing dent in your bank account.
Dual flush toilets are a recent technology that allows you to use less water in the bathroom. As the name suggests, there are two flushing options-light and heavy. Light flushing is used to drain liquid waste while the full flush is for solid waste. This operation happens through two buttons and sometimes a lever with the direction indicated for the two flushing choices.
The best dual flush toilets result in 30% less water use, which consequently results in easily payable bills that don't affect your financial plans. Additionally, it is great to conserve water and help other areas with shortage get something too.
And now to the most important question, how do you tell which dual flush toilet is the best? You cannot unless you conduct thorough research. But you no longer need to do that as this review takes a look at the finest options and includes a brief buying guide that will help you to make the right choice.
If you are short on time, check out our top recommendation: WoodBridge T-0019 Dual Flush Toilet. This fixture is affordable, high-quality, and can be upgraded to prestigious standards by incorporating a bidet seat. For those who are thrilled to take a peek at other interesting choices, keep reading.
Best Dual Flush Toilet Reviews
| Product Name | Latest Price | Dimensions | Weight |
| --- | --- | --- | --- |
| WoodBridge T-0019 Dual Flush Toilet | Check Price | 31 x 18 x 28 Inches | 119.7 pounds |
| American Standard H2Option Dual Flush Toilet | Check Price | 15 x 29.75 x 30 Inches | 61.9 pounds |
| EAGO Dual Flush Eco-Friendly Ceramic Toilet | Check Price | 26.6 x 15.1 x 26.6 Inches | 92 pounds |
| DeerValley DV-1F52813 Compact Dual Flush Elongated Toilet | Check Price | 25 x 13.37 x 28.37 Inches | 86 pounds |
| HOROW HWMT-8733S Small Toilet | Check Price | 32 x 29 x 19 Inches | 96 pounds |
1. WoodBridge T-0019 Dual Flush Toilet
This porcelain favors those who hate cleaning toilets but still admire glossy surfaces. The porcelain top is lustrous and easy to wipe down. It retains its radiance even after years of use. The trapway is skirted to look sleek and make cleaning a few-seconds process.
As one of the certified high-efficiency dual flush toilets, WoodBridge T-0019 outshines practically any other toilet in this review. Its flushing system includes a glazed trapway and siphon jet flushing for dependable yet quiet performance. As we said, the trapway has no corners, bends, and grooves that promote sticking of waste.
This is a comfort height design, which is simply the same height as normal chairs. This makes sitting and standing up easier for everyone-including the elderly. When you have answered nature's call, you can press the 1.0 GPF button for liquid waste and 1.6 GPF for solid waste.
WoodBridge T-0019 Dual Flush toilet comes in a one-piece space-saving design. Should your needs for comfort grow, you can easily add a bidet seat to it. This no clog toilet also comes with a whopping 5-year warranty that puts your worries to bed.
Top features
Floor-mounted
A luxurious one-piece toilet
Concealed trapway
a MaP (maximum performance) score of 1000 grams
elongated bowl
soft-closing seat
water usage: 1/1.6 GPF
Certifications: EPA, WaterSense, ANSI, etc.
the package arrives with the toilet, a special hand wrench, floor bolts, wax ring, soft-closing seat, and instructional manual
Pros
A luxurious design that can transform the look in your bathroom
A glossy, rustproof, and easy to wipe the bowl
Extremely powerful flushing performance
Affordable despite the many cool features
Space-saving one-piece dual flush toilet
Comes with everything you need for installation
Cons
Nothing serious to report
We normally don't rant so much about something, but you will allow us to stand behind WoodBridge T-0019. This is the best among the best. You get a space saving one-piece toilet, luxuriously designed with reliable flushing performance-all for barely $300. This one is a steal (and you will realize that by the time you finish going through all our dual flush toilet reviews).
2. American Standard H2Option Dual Flush Toilet
American Standard H2Option Dual Flush Toilet is a bundle of joy for lovers of good toilets. Any plumber who is familiar with this toilet will let you know that you won the lottery (It's extremely efficient yet costs less than $300).
First, this is an American Standard model and therefore, widely known and accepted. Secondly, its impressive constructed vitreous chinaware boasts of an EverClean surface at no cost at all. EverClean will keep your toilet looking shiny for many years with easy-breezy cleaning.
As one of the high-efficiency dual flush toilets, American Standard H2Option features a siphon jet flush that, together with the glazed trapway, can push any stubborn waste down the drain channel. What's more, the maximum water per flush is merely 1.28 GPF.
This toilet comes in round and elongated bowl designs. Theirs is also an option to go with normal height or a right height model. These designs vary in price. This dual flush toilet comes in three colors (white, linen, and bone) and is secured with a limited 5-years warranty.
Top features
Elongated bowl
EverClean surface
Water usage: 0.92/1.28 GPF
Warranty: 5 years (limited)
UHET(Ultra-High Efficiency Toilet)
2'' glazed trapway
Chrome-plated actuator for rust protection
Pros
Stain and bacteria resistant bowl
Available in multiple colors and designs
One of the most affordable high-efficiency dual flush toilets
Powerful flushing performance
Longer warranty period
Certified as environment-friendly
Cons
You have to buy the seat separately
We hate gambling with our money. If you are too, a toilet that is sure to pull up the kind of performance you are looking for is American Standard H2Option. Coming from a widely known brand, getting accessories will be easy. Go check it out.
3. EAGO Dual Flush Eco-Friendly Ceramic Toilet
Not the name you are used to but don't be so quick to brush aside EAGO Dual Flush Eco-Friendly Ceramic Toilet. This toilet gives you the option to flush both solid and liquid waste differently, resulting in less water usage.
Besides the dual flush performance, its flushing ability is reliable. This is made possible by the 3-inch flushing valve, which cuts down on the number of problems associated with archaic ball-chain-flapper systems.
EAGO Dual Flush Eco-Friendly Ceramic Toilet has a wide water surface that minimizes odor build-up. This design also makes it easy to clean compared to narrower bowls. The seat is included, and the lid closes softly.
Warranty is quite important for toilets. EAGO Dual Flush Toilet comes with a 5-year warranty period against fading and staining on the porcelain. The toilet seat and flushing system is secured for only a year. As is the case with many products, the warranty is limited to what is stated.
Top features
Porcelain material
Oblong shape
Floor-mounted
Wide surface area
Water usage: 0.8-1.6 GPF
Warranty 5 years
Pros
A comfortable bowl design
Certified for water efficiency
A longer warranty period
The lid closes silently
Space-saving one-piece dual flush toilet
Reliable flushing performance
Cons
Possible leaks when improperly installed
Fairly harder to install
EAGO Dual Flush Eco-Friendly Ceramic Toilet is a worthy contender despite the brand being new to some people. The long warranty duration can help you purchase with some peace of mind. However, to avoid the troubles other people had with it, contract a good plumber to put it together.
4. DeerValley DV-1F52813 Compact Dual Flush Elongated Toilet
How do you feel about spending around $200 on a high-quality dual flush toilet? Great, right? Of course, we know. One such toilet is DeerValley DV-1F52813.
You are probably worried that the toilet comes from a less known brand. But let's clear things up a little. DeerValley's efforts in making toilets that fit modern standards can be recognized from far. In fact, most of their options including DeerValley DV-1F52813 are WaterSense certified.
This toilet model features a siphon jet flushing system with a glazed interior for a smooth, noiseless, and efficient flush. The actuator comes with two chrome-plated buttons with 0.8 and 1.28 GPF flushing options.
At the end of your business, the seat closes back slowly and quietly. DeerValley DV-1F52813 is a little smaller than conventional toilets. So if you are really big, then just stick to our other choices. Thanks to the one-piece design, those with smaller bathroom spaces or, for some reason wish to avoid cluttering can find this toilet to be a suitable fixture.
Top features
Soft-closing seat
WaterSense Certified
One-piece dual flush toilet
Comfort height (chair-height)
Siphon flushing
Water usage: 0.8/1.28 GPF
Ceramic material
1-year warranty
Pros
Truly affordable
Effective flushing
A comfortable elongated bowl and chair-height position
Easy to clean up
Compact for smaller bathroom
Cons
May not be ideal for extra-big people
Short warranty length
DeerValley DV-1F52813 is among the affordable dual flush toilets with the same exceptional performance as other models from bigger brands. If you don't care so much about brand names, then this toilet will give you so many reasons to be happy in your restroom.
5. HOROW HWMT-8733S Small Toilet
Are you looking to save a few inches of space in your bathroom? If that is the case, then HOROW HWMT-8733S Small Toilet. Measuring 25'' x 13.4'' x 28.4,'' this dual flush toilet will prevent your legs from hitting the walls or doors.
Feature-wise, there is no huge difference from other models in this dual flush toilet review. The bowl is made from shiny porcelain that can retain its glitter for longer. Many reviewers admit it gets the job done thanks to the glazed trapway and a powerful siphon flush when it comes to performance.
HOROW HWMT-8733S Small Toilet is a one-piece model that further helps you to put your space to good use. Its dual flush mechanism operates at 1.1 GPF for short calls and 1.6 GPF for long calls.
The toilet is elongated for comfort and comes with a CEC compliant certificate. You can rely on the 5-year warranty for porcelain fading and 3 years for soft-closing seat and flushing mechanism in case of company flaws.
Top features
Elongated toilet
Compact design
Water usage: 1.1/1.6 GPF
12'' Rough-in
Soft-closing seat
5 years warranty
Comes with floor bolts, wax ring, and soft-closing seat
Pros
Ideal for small bathrooms
Powerful, yet quiet flushing
A generous warranty period
The seat does not slam
An extremely affordable dual flush toilet
Cons
Look off in big bathrooms
HOROW HWMT-8733S Small Toilet is one of the best dual flush toilets for people with small bathrooms. If customer reviews are anything to go by, this kit is already winning so many hearts. On the plus side, you don't have to spend way over $200.
Things to Consider While Shopping for Dual Flush Toilets
You are not here to gamble with your money. We will not question you about that. This section will touch on some important things you must consider while looking at dual flush toilet options to help you make sober decisions. Read them below:
One-piece vs. Two-piece
A debate between one-piece vs. two-piece toilets is a never-ending one. And today, it's your time to decide which one could work well with your restroom.
A one-piece toilet is exactly as the name suggests; it comes in a single piece. In this design, the water tank and the bowl are molded together. Such a toilet doesn't come with many grooves, which makes cleaning easier. Given that one-piece units are the latest space-saving models, they are a little costlier than a two-piece.
A two-piece toilet comes with the bowl and tank separated. This can allow you to put the tank in any position you want. This design is traditional and springs from way back to the first toilet days. As such, they are relatively cheap, easy to maintain, albeit taking up too much space.
Let's come straight on this; performance and functionality are more or less the same. It's just the design that differs. If you are hell-bent on performance, we suggest looking at the flushing technology in the models you are considering. Check out the image below for a complete comparison.
Flushing Performance
Are you a parent? Do you always find yourself pulling at your hair after finding toys, wipes, bandages, veggies, and loads of toilet paper?
Yeah. We've all been that annoyed—Trust us…Kids (phew).
Besides kids, if you have a commercial property, then it really does work a lot harder than all of you. Basically, it is expected to effectively deal with all your shit-literally. These are some of the incidences where a dual flush toilet with powerful performance cannot be underestimated.
The best flushing systems you should consider include Gravity flush, double cyclone, pressure-assisted, and Tornado. These systems sink waste within a single pull of a lever (or button press). Sometimes extremely powerful flushing technologies can result in a bit more noise. We thought you should know that.
You can also take a look at our article on the best flushing toilets for some choices that will keep your home and commercial places stench-free.
Certification
Standardization organizations are quality watchdogs that ensure products work as they should. By purchasing a certified toilet, the chances are very high it will flush effectively, conserve water, and accommodate the disabled members of the family. The most common certifications include ADA (disability compliant), EPA WaterSense for water conservation, and CalGreen for environmental protection.
Refill Rate
The Toilet tank refill rate is just as important as flushing performance for bigger homes and commercial spaces. When you have a party, there will always be a queue, and nothing is discomforting like sticking around in the toilet for a little longer just so the tank can refill.
Size and Shape
Dual flush toilets come in many sizes and shapes. However, the two common shapes are a round bowl and elongated. The bow is…err…round and usually a bit smaller. This makes them an excellent choice for those with small restroom spaces.
An elongated design is large and oval in shape. They are recognized as the most comfortable and come highly recommended. This is why they cost a little more than round bowl ones. There are also hybrid toilets whose shape is a combination of these two bowl designs.
Warranty
Warranty does actually matter when it comes to costly items like toilets. If you are like some of us who are extremely skeptical about quality standards, then pick toilets that offer more than two years. The longest period you are going to get is five years, although most units come with a 1-year limited warranty against company defects.
Frequently Asked Questions (FAQ)
Q. What are the benefits of using a dual flush toilet?
A. There are a lot of benefits to be gained from using a dual flush toilet over the standard flush toilet. Some of these benefits include:
Budget-friendly – Dual flush toilets conserve a lot of water, thereby helping you save up on cash that would have been used to pay for high water bills.
Environmentally-friendly – These toilets consume less water than most toilets, thus conserving a very important water resource. This is a good practice in places with a shortage of clean water.
Q. What happens if I push both buttons on a dual flush toilet?
A. You are supposed to push the smaller button for liquid waste and the bigger button for solid waste. If you happen to push both, probably because your fingers are big, you get more water equivalent to a single press of the large button.
Q.Which is better, a single or dual flush toilet?
A. Most countries and manufacturers are now pushing for dual flush toilets as eco-friendly practices gear up. Dual flush toilets are said to save up to 30% of clean water that would otherwise go down the drain. This water can be channeled to other areas for the betterment of humanity.
Unfortunately, if your dual toilet must be pressed twice to drain waste, it is no better than single flush models.
Q. Which is better, a single or dual flush toilet?
A. It is common for some toilets to constantly run even after flushing. In this case, the first step is to turn off the water from the inlet hose pipe. Carefully remove the lid to avoid damaging the toilet's internal mechanism.
Now, the cistern is stuck to the bottom. To remove, simply grab it with your two arms, then twist it to one side as you gently pull upwards. For some toilets, instead of twisting, you, instead, press down then pull up.
The culprit is the flush valve washer (looks like a rubber seal), which is located at the lower end of the cistern. Usually, it is scaled, and this is the reason it lets out water. You will need to peel it off gently. The image below shows you what we are talking about.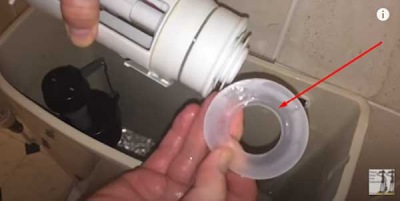 Once out, give the washer a good clean up and slide back to the cistern the same way it was. Most come with some writing on the side that is supposed to remain on top. If you swap the sides, the seal won't work properly. Now, once in place, place the cistern back, and if everything went well, then the water should stop running. If it continues, then you need to look for a replacement valve.
Conclusion
This is definitely not the ultimate list of the best dual flush toilets. Rather, we just singled out a few of the top options that come highly recommended by home builders, plumbers, and previous buyers.
Dual flush toilets can also come as wall hung toilets or smart toilets with bidet seats than massage your bottom (amazing, right?). A few underdog brands are actually producing decent kits that don't cost an arm and a leg (as is common with household brand names).
Feel free to read through dual flush toilet reviews and sentiments left by previous buyers. They have first-hand info on how a model you are interested in works and could help you make an informed choice. We wish you good luck and enjoy your potty sessions.
Related Reviews: