No modern home can function without a proper toilet – well, maybe in the thickest and most inaccessible jungles.
The porcelain throne has become a standard feature all over the world, a very significant unit of a modern home.
As such, and not surprisingly, there are now countless brands and styles on the market today, making it quite complex to choose – especially the choice between an elongated and a round bowl toilet piece.
All over the web, and elsewhere, homeowners, or specifically, prospective homeowners spend so much time weighing their options. Our job is to present the top features as well as the pros and cons in a few words to help you choose the best option.
In any case, your toilet of choice will be contingent on your needs, design, size, and the decor of your bathroom.
Note that toilet design comes in two types: A round or elongated bowl.
We've painstakingly researched these toilets, their features, pros, cons, and the best pick. In the end, you should be able to come up with the perfect fit for your bathroom.
What to Look for When Choosing Your Toilet (Differences and Similarities)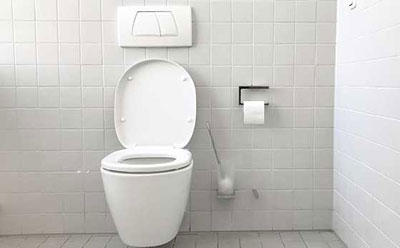 Whatever toilet type you opt for – round or elongated bowl, there are certain factors you should consider before purchasing the unit.
The toilet unit is not a piece of equipment you'd want to return after purchase. So, be mindful of all these before beginning your hunt.
The round bowl toilet is usually smaller than the elongated toilet. You should consider the size of your bathroom (and your body mass index) before picking a toilet unit.
Ultimately, the toilet of your choice should meet your needs, be efficient, and yield reward for your money.
Performance and Flush
Both toilet types have different flushing systems. The variants include double cyclone, ideal pressure-assisted, gravity, and excellent dual flush. Nonetheless, the elongated toilet has a more powerful flushing mechanism when compared to the round bowl toilets. If a super-powerful flushing toilet and water conservation are top on your consideration, then you should consider buying a toilet unit with an elongated bowl.
Comfort
When it comes to comfort, these two toilet types excel differently according to your different needs.
If you have elderly ones in your home, a suitable comfort hight toilet with the round bowl is a perfect choice for comfort.
However, elongated bowl toilets offer more sitting space; hence they are more comfortable for teens and adults.
Size
The size of your toilet is contingent on the amount of real estate you have in your bathroom. Round bowl toilets are smaller than their elongated counterparts. So, if you do have ample space, you should go for an elongated toilet.
Cleaning
As far as cleaning goes, the elongated bowl toilet is easier to clean when compared to the rounded bowl toilets.
The rounded bowl toilet has more crevice around the underside of the bowl; as such, the brush doesn't get inside quickly or easily compared to the elongated types.
Design
Manufacturers are on the constant pursuit of cutting-edge innovations to ensure both of these toilet types are of a modern standard.
In effect, there are countless state-of-the-art toilet designs available on the market. All you need do is consider the size and decor of your bathroom.
Nevertheless, an elongated toilet unit is the best fit for a large bathroom, while a round bowl toilet will come in handy for smaller bathrooms.
Elongated Vs. Round Toilet (Features, Pros, and Cons)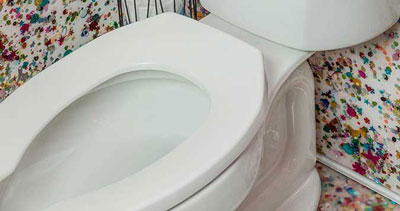 The best option will be that which matches the decor of your bathroom, fit for purpose, and well-priced.
However, both options still have some disadvantages to consider.
Let's take a peek at them.
Elongated Bowl Toilets
When it comes to size, elongated bowl toilets are larger than the round bowl toilet. The size of these toilet type varies from brand to brand.
In any case, the standard elongated bowl toilet measures 18.5 inches long from the post holes to the edge.
It is safe to say that elongated toilets are more comfortable for adults considering their larger size. Also, the toilet bowl comes with enough room for the perfect flush when compared to round bowl toilets.
Pros
Easy to clean
Offers more sitting space
Powerful flush
Convenient for men, teens, and other adults with a large body mass index
Stylish design
Cons
Not suitable for bathrooms with limited space
Quite pricey
Round Bowl Toilets
A standard round bowl toilets measure about 16.5 inches long from the post holes to the edge. It could, however, be smaller as size varies from brand to brand.
These types of toilets are perfect if you have a small bathroom space.
If you have kids in your home, the ideal toilet for them will have to be the round bowl toilet.
Pros
Perfect for bathrooms with small space
Fit for kids
Great for people with special needs
A pocket-friendly toilet unit
Cons
A bit difficult to clean
Less comfortable for adults
Not a great item in a large bathroom
Any Top Picks to Consider?
As far as round bowl toilets go, the American Standard H2Option Siphonic Dual Flush Round Front Toilet is in our best performer.
The toilet unit comes with its patent-pending Siphonic action technology and WaterSense certification.
The H2Option Siphonic has a powerful flush mechanism that can get rid of 1000 grams of solid waste in one flush. It is, thus, efficient and easy to clean.
If you are on the lookout for an elongated toilet for your bathroom, one of the best you can find is the Woodbridge B0735 T 0018.
This sophisticated toilet unit comes with a smooth design that readily ups the ante of your bathroom. It comes right out of the box with everything needed for an easy installation process.
It is WaterSense-certified and can get rid of all solid waste with efficient use of 1.28 gallons per flush. The Woodbridge B0735 T 0018 is indeed considerate of the environment.
Furthermore, you can choose from five temperature control options to suit your needs at all times.
Conclusion
The two toilet types we have discussed are ideal for modern homes.
The choice you make is dependent on your needs. You'd want to look into your specific requirements and what's best for your home.
Irrespective of their differences, these toilets perform their functions efficiently.
That said, the significant differences here are the design, reason for the build type, and sizes.
The elongated toilets are powerful flushers, but that doesn't take anything from the round bowl toilets, which are very economical.
If you have kids around, limited space, or people with special needs, then the round bowl toilet is perfect. However, an elongated bowl toilet is a better choice when there is ample real estate in your bathroom.
Related Reviews: