Whether you're beginning to research for a big bathroom remodel, or you're looking to upgrade an old, dated toilet, you'll soon find that the possibilities are endless when it comes to modern toilets.
After reading reviews, you'll also find that the general public has nothing but good things to say about the high-end toilets on the market today. With features like elongated and comfort height seats, warm water washing and warm air drying, skirted and tankless designs, and a plethora of other luxury functions, it's easy to imagine how you could go from clueless to convert over luxury toilets.
We did the research and looked at eight of the top high end toilets on the market today. We found that the Toto Neorest was our favorite, all the way from its sleek, low-profile looks to its bidet functions and flushing power. Take a look below and see if our recommendations can help you make a decision on the perfect high end toilet for you.
High End Luxury Toilets
| Product Name | Latest Price | Dimension | Material |
| --- | --- | --- | --- |
| WoodBridge T-0008 Luxury Bidet Toilet | Check Price | 28.5 x 14.5 x 27.5 inches | Porcelain |
| Kohler K-5401-PA-0 Veil Skirted Intelligent Toilet | Check Price | 26.13 x 17.25 x 21 inches | Vitreous china |
| TOTO WASHLET+ Aquia IV Two-Piece Toilet | Check Price | 27.56 x 15.56 x 29.56 inches | Ceramic |
| KOHLER 5402-0 Veil Intelligent Wall-Hung Toilet | Check Price | 25.38 x 23.25 x 46.25 inches | Metal |
| TOTO MW4742034CEFG#0 Toilet | Check Price | 28.31 x 16.25 x 30 inches | Vitreous china |
| KOHLER K-5401-0 Veil Skirted 1 Piece Smart Toilet | Check Price | 26.38 x 17.25 x 21.38 inches | China |
| Toto Neorest Dual Flush Toilet | Check Price | 32.5 x 15.5 x 21.5 inches | Ceramic with SanaGloss |
| KOHLER Karing Skirted Elongated Toilet | Check Price | 25 x 22 x 32 inches | China |
1. WoodBridge T-0008 Luxury Bidet Toilet
First on our list is a bidet seat by WoodBridge. Right off the bat, reviewers had great things to say about the customer service experience at WoodBridge. They resolved issues and communicated quickly.
This bidet seat has a modern look without sacrificing comfort. It features a skirted trap way that does a great job of blocking most of the bidet mechanisms. In addition to that, the one-piece design makes this toilet easy to keep clean.
For comfort, there is an elongated toilet seat, and the toilet sits at a comfort height. What puts this seat into the luxury category? Features like four different sprayer settings, heated seats, water heating, and a warm air dryer.
Pros
This toilet is one of the more affordable in this category.
The skirted trap way and one-piece design are easy to keep clean.
The elongated seat and raised seat height are more comfortable.
The bidet adds a quick and sanitary way to keep clean.
The seat warmer and air dryer keep you comfortable in any weather.
The WoodBridge customer service is helpful.
Cons
Some users found the seat to be a bit narrow for comfort.
The water pressure is not as high as in other models.
You'll be hard-pressed to find a better option for luxury and affordability than this model. Reviewers had hardly anything bad to say about it! If a bidet is a must for you, but the price is a concern, this toilet should be a top contender in your search for the best high-end toilets.
2. Kohler K-5401-PA-0 Veil Skirted Intelligent Toilet
This next model might leave your guest wondering if they've actually walked into the bathroom—it's that low-profile. Extremely sleek and minimalist, Kohler's toilet hides a lot in a small, but pricey, package.
It is skirted and one-piece for cleaning ease. It features an elongated seat that stands at 17 inches above the floor. It has a discreet bidet with a wall-mounted remote. Various other features include a night light, hands-free opening and closing, and an emergency back-up flush in case of a power outage.
Also impressive is its water usage. It has a dual flush system that uses 0.8 gallons of water for liquid waste and 1.28 gallons for a full flush—well below the required water usage, saving you money in the long-run.
Pros
The one-piece and skirted design are sleek and easy to clean.
The toilet offers an elongated seat and 17-inch seat height for comfort.
The bidet cleans well and is controlled with a wall-mounted remote.
It has a dual flush that uses very little water.
There is a back-up flush in case of a power outage.
Cons
It requires a 2-inch clearance gap from the wall, so it cannot sit flush against it.
It is a more expensive model.
If the price is not an issue, reviewers had only good things to say about this model. It has all the key features of the best luxury toilets. It also had a clean, modern look that will work in any size or style of bathroom.
3. TOTO WASHLET+ Aquia IV Two-Piece Toilet
This seat and toilet combo from Toto is a mid-priced option for all the luxuries a toilet can offer. The seat has functions that allow it to help clean the bowl before and after use, along with use as a bidet. The warm water heating is tankless, and the seat has five spray options.
It can be installed at different height rough-ins, although some components need to be purchased separately. This duo is designed to conceal the connections for the seat, making it seamless and clean as opposed to installation on other toilets.
Water usage is also very low for this toilet, at 0.6/1.28 gallons per flush for partial and full flushes. Some shoppers were confused by the similar-but-slightly-different models from the same company, which include things like auto-flush. This model also does not have an elongated seat.
Pros
The seat and toilet fit together for the seamless covered design of the cords and hose for the bidet.
The skirted trap way keeps it simple-looking and easy to clean.
This model has features to keep the bowl clean before and after use.
It uses even less water than required for the WaterSense rating.
The tankless water heater gives unlimited warm water to the bidet.
Cons
The seat is not elongated or at comfort height.
It does not have an auto-flush or flushing button on the remote.
It is a little bit more of a bulky design because of the two separate seats and toilet pieces.
While popular with users and from a reputable brand, this seat and toilet combo from Toto doesn't "wow" us. You'll end up paying quite a bit extra just to have the bidet seat's cord and hose concealed, but the overall toilet is a bit bulky and lacks some key comfort features you may be looking for in these toilets.
4. KOHLER 5402-0 Veil Intelligent Wall-Hung Toilet
If the price is any indication of luxury, then the Kohler Veil Intelligent Wall-Hung toilet tops the list. This is an upgrade over the Veil Intelligent Skirted Toilet listed above, although you will have to decide if those upgrades are worth the price.
The main difference between the two is obviously the toilet's wall-mount style, which offers extra space in the bathroom and easy to clean space underneath. Kohler claims that you will gain an extra 8-inches of floor space over other models with this toilet.
Looking at the details, it appears that this toilet also flushes automatically, a function that many reviewers wanted when purchasing the skirted Veil. The skirted Veil also offers an emergency reservoir of water for power outages, whereas the wall-hung Veil does not.
Pros
The wall-hung style is sleek, space-saving, and easy to clean.
Dual flush offers water conservation on liquid waste flushes.
The stainless-steel wand is self-sanitizing.
This toilet also offers warm-air drying, various spray shapes, positions, pressures, temperature, and deodorization.
Because it is wall-mounted, you can choose the height of the seat, between 15" and 23".
Cons
This toilet is five times more expensive than cheaper but comparable intelligent, bidet toilets.
The wall-mounted design may be hard to install in some bathrooms.
As much as we would love to hate this toilet, it appears that will be hard to do. Reviewers had only good things to say about it, and its functions and look definitely rank it as one of the best expensive toilets.
5. TOTO MW4742034CEFG#01 WASHLET+ Vespin II Toilet
This model from Toto is another variation on a previously listed toilet. This time, the Washlet+ is paired with the Vespin II two-piece toilet. Right off the bat, this toilet's aesthetics aren't quite up to par with some of the others on this list, but don't let that turn you away quite yet.
It has many of the features of the best high end toilets like a heated seat, various spray options, a warm air dryer, and an air deodorizer. The wand for the bidet is self-sanitizing. The remote can sit on the side of the toilet or be mounted on the wall.
This toilet does not have the dual-flush system that other models have, although that does not stop it from having a loyal fan base. Reviewers had great things to say about it and highly recommended it after using it in their own homes.
Pros
The skirted design is easier to keep clean.
The features include rear and front cleanse, warm air dryer, self-sanitizing wand, and heated SoftClose seat.
The pre-mist, Tornado Flush, and smooth glaze keep the toilet cleaner for longer and help reduce odors.
It has an elongated seat at comfort height.
This toilet is one of the more affordable options on this list.
Cons
The side-mounted remote isn't a very attractive set-up.
There is no dual-flush system.
The pre-mist function is triggered anytime someone walks by the toilet, which was annoying to some users.
While many reviewers had lots of good things to say about this toilet, we think the unappealing looks and lack of dual-flush are good enough reasons to pass on this design in favor of some of the other similarly-priced options available.
6. KOHLER K-5401-0 Veil Skirted 1 Piece Smart Toilet
This is an older model of the very-popular Veil by Kohler. It is skirted and one-piece, with a very attractive and minimalistic tankless design. It features the same functions as the other Veil models, like a heated seat, dual flush, warm water washing, warm air drying, and self-cleaning.
The main difference is height—this Veil model has an elongated seat at normal seat height, as opposed to the other models with the comfort height. That would make this seat a better choice for tight space or for families who don't mind the traditional seat height. Some families with young children may even prefer it.
Pros
The tankless, one-piece, and skirted design are minimalistic and easy to clean.
The seat is elongated but at normal (12") height from the ground.
It includes all the most popular toilet functions with heated water washing with many variables, seat warming, air drying, and automatic lid.
It features a dual-flush with a tankless design that also has an emergency flush for power outage
Cons
Some users may prefer a higher seat than this toilet offers.
This tankless style of the toilet can be harder to install than typical toilets.
If the comfort height is not a must for your family, this popular Veil toilet model could be a great fit for your bathroom. It features all of the well-loved Veil functions but maybe a bit more affordable than the wall-mounted or comfort-height skirted models.
7. Toto Neorest Dual Flush Toilet
Next is a low-profile, one-piece skirted toilet from Toto, a brand well-known for its corner on the toilet market. The 700H is one part of the Neorest collection of high-end toilets that the company offers.
This model seems to have it all—elongated seat, comfort height, automatic opening and closing of the lid, automatic flush, heated seat, and all of the bidet options that are popular in the toilet market today.
Water-wise, you'll still get the dual flush system that uses a gallon or less per flush. The rim design and pre-mist functions keep the toilet cleaner, and the sanitizing and deodorizing options help.
Pros
The low-profile design offers a comfort height, elongated seat, and skirted design.
The sanitary measures include automatic seat opening and closing, automatic flushing, pre-mist, and bowl sanitizing before and after use.
The dual-flush system uses well-below the required amount of water to qualify for the WaterSense label.
Two memory settings are available for users' preferred functions.
A built-in exhaust fan begins during use and eliminates the need for a bathroom exhaust fan or bathroom sprays.
Cons
Some reviewers complained that the seat opening was too sensitive.
Others mentioned that while the self-cleaning suffices day to day, weekly cleaning is still required for a truly clean toilet.
Many readers may be loyal to the Toto brand, and if you're looking for the best luxury toilets that they offer, this one may be at the top of your list. It offers all the wanted bidet and intelligent toilet options in a sleek, one-piece profile that will look great in any bathroom.
8. KOHLER Karing Skirted One-Piece Elongated Toilet
Last is another offering from Kohler—the Karing is a skirted, one-piece toilet with an elongated bowl and the typical bidet and intelligent offerings. It has a low-profile, minimalistic design with normal seat height.
Its functions include automatic opening and closing, a 1.28-gallon flush, a bidet wand with self-cleaning, heated seat, and 2-person memory settings on the remote.
Many reviewers enjoyed this seat, although it seemed to take a bit more work to learn than some other models. They mentioned the remote was a bit simplistic and didn't match the toilet's price point. Others found that programming the memory settings was necessary to avoid unneeded, constant flushing, and confused guests.
Pros
The one-piece, skirted design is easier to clean than the typical toilet.
The elongated bowl is more comfortable to use.
It offers a 1.28-gallon flush, well-below the required flush for a WaterSense label.
Its bidet options include a self-cleaning wand, air dryer, and deodorizing filter.
The remote can be programmed with two memory settings.
It has hands-free opening and closing.
Cons
Reviewers shared that this toilet can be hard to use, especially for guests.
It does not offer a dual flush.
Some users may not like the 12" bowl height.
It's never good to end on a bad note, but as much as this toilet has going for it, we think there are better options for a luxury toilet both within and outside of the Kohler brand. The hard-to-use remote and necessity of memory settings make it an option we are ok with passing on.
Considerations Before Buying High End Toilets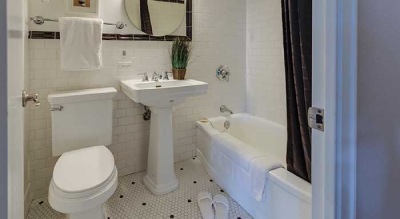 Brand
There are not many brands that offer truly high-end toilets—the main trusted brands for the job are Kohler and Toto and Kohler. These brands are internationally recognized as quality toilets and have the price tag to go with that recognition.
American Standard and WoodBridge are two toilet brands that are more affordable but making a name for themselves amongst buyers.
Seat Size
Elongated seats are very popular on high-end toilets today. These seats are more comfortable for a variety of users. It's not a problem for smaller users to have the extra room on the seat, but many larger users find that normal sized seats are a bit too small.
Comfort Height
Another great feature of this toilets is the height differences available. The average toilet seat sits about 12 inches from the ground. The newer "comfort height" toilets can range in height from 15 inches all the way to 23 inches.
Some of the taller toilets may be uncomfortable for the average user, but they can make a world of difference for those with limited mobility or elderly users.
Flushing System
In the world of toilets, there are two types of flushing available. Gravity-assisted is probably the most familiar to homeowners. It uses a watertight seal and rubber flapper, combined with a chain connected to a lever, to flush the toilet and fill with clean water.
Pressure-assisted toilets are a more powerful, but loud option that you'll most often find in commercial settings. This style uses compressed air and a trap way to provide a powerful flush that does a great job of cleaning the bowl.
Most high end toilets offer a dual flush system, which is a great way to save on your water bill. Most of these use a siphon to achieve a full or partial flush. Many of these employ hole-less rims with high-pressures jets to create a tornado, swirling effect that cleans the bowl.
Water Surface and Depth
The water surface involves the width and height of the area of the toilet covered by water. This may not seem like an important thing, but it can lead to issues if not addressed. Too little water surface area and waste deposits may not be effectively cleaned from areas where there isn't any water.
Equally important is the seat to water surface length. If it is too short, you may have problems with splashing or with putting a hand into the water when wiping. Of course, with a high end toilet that features a bidet, the wiping shouldn't be an issue.
Cost
When shopping for high-end toilets, the cost can play a factor. It's possible to find great quality, luxurious toilets for a reasonable price. However, you can also start to add on more luxurious functions that can lead to a toilet five to six times as much as the basic model.
Things that can quickly add to a toilet's price are the tankless designs, a one-piece design, automatic lid opening and closing, and automatic flushing. Some of these styles are also expensive to have installed and can require both a plumber and an electrician on top of the toilet's cost.
Frequently Asked Questions (FAQs)
Q. What kind of power do intelligent toilets need?
A. Toilets that use remote programming and offer things like seat warming and warm water rinsing need an outlet near the toilet to be plugged into. Since most bathrooms were not originally designed to offer an outlet in this area, you will probably need to hire an electrician to install the outlet for your high-end toilet.
Your electrician will need to install the 3-prong style outlet with at least 15 amps. Bidet seats can draw anywhere from 600W to 1400W at their peaks.
Q. Can I still use toilet paper with a bidet toilet?
A. Yes, you can still use toilet paper to dry off after using a bidet, especially if you don't have time to wait for the warm air dryer, or you want to make sure you're clean before exiting the bathroom.
Q. Are intelligent bidet toilets good for guest bathrooms?
A. It depends on how easy and clear the controls are to use, but many homeowners have found that their guests were excited by bidet toilets and eager to learn how to use them. It may be helpful to have signage that gets guests started on the usage process.
Q. Can children use a high-end toilet?
A. Many families find that bidet style toilets, elongated bowls, and comfort height seats all work well for any family, even those with small children. It can be hard and messy for children to learn to clean themselves after toileting and think like a warm water rinse, and automatic flush can be very convenient for kids as they learn to use the toilet.
Q. Can I install a high end toilet on my own?
A. It is recommended to hire both an electrician and a professional plumber who has experience with intelligent toilets to install your new high-end toilet.
Q. How much money can I save with a dual flush toilet?
A. The old-school toilets in many homes today use 3-4 gallons of water per flush. A dual flush toilet offers two modes of flushing depending on the type of waste and can use anywhere from 1.6 gallons per flush to under a gallon. This means you have the potential to cut your water bill by two-thirds in employing a dual flush toilet.
Q. How do you clean a high-end toilet?
A. To clean the areas of your new toilet, use gentle non-abrasive cleaners. Try to avoid heavy-duty cleaners and disinfectants. Many bidet wands offer self-sanitizing so you don't have to worry about cleaning those after each use.
Conclusion
If the internet is any indication, a high end toilet is the next need you didn't know you had. Once you get used to the amazing features like elongated and comfort height seats, dual flushing, seat warming, warm water washing, warm air drying, automatic seat opening, and closing, and the simplistic beauty of one-piece skirted design; you may feel the same way!
Choosing a toilet may seem like an easy task, but one look at your local appliance store may have you feeling otherwise. That's why we're here to help! We hope reading through these thorough, but succinct, reviews can help make your toilet-buying decision easy and fast!